Multipure Aquaversa Drinking Water Filter – Below Sink with Capacity Monitor
Fresh, Clean Drinking Water for Pennies per Gallon!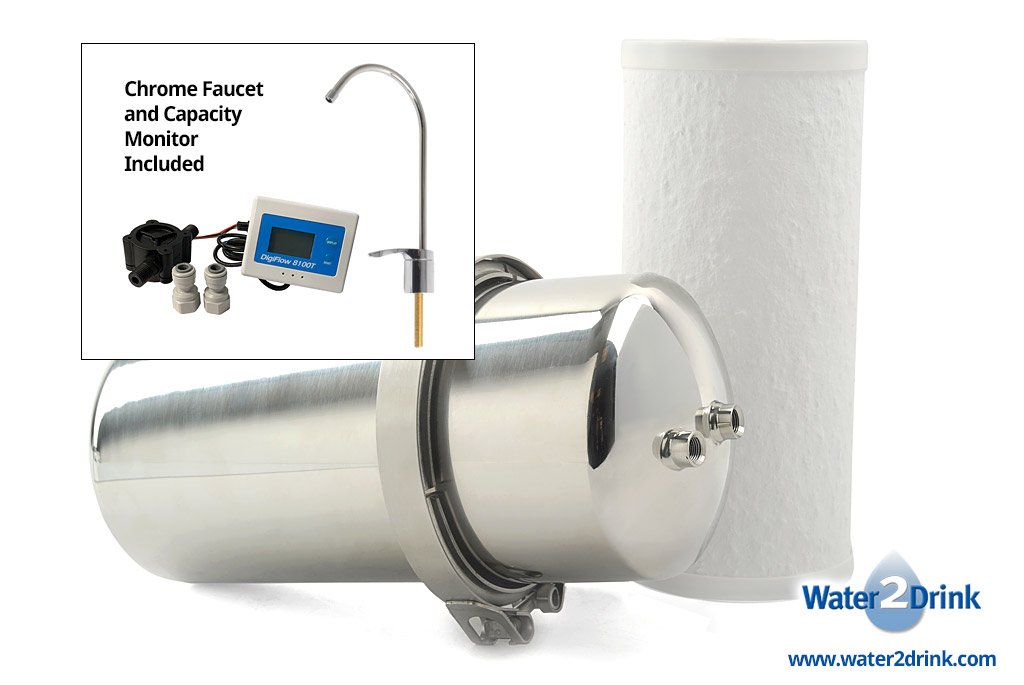 Description
The Multipure Aquaversa for Below Sink with Capacity Monitoring model uses its own specially-designed capacity-metered drinking water faucet that alerts you when it's time to replace the carbon filter cartridge. An easy-to-read color-coded light on the faucet at your sink flashes to indicate when the filter should be changed, substantially extending the useful life of the replacement cartridge. The versatile filtration unit housing can be mounted on the cabinet wall with the bracket provided, or set on the cabinet floor using a plastic base. It also may be connected to an icemaker using an icemaker tee fitting, and the system later may be converted to a countertop unit with the purchase of a conversion kit. The plastic base, icemaker tee, and countertop conversion kit are optional parts and are not included with the product.
The Aquaversa uses Multipure's unique solid carbon block filter technology, which is considered to be the most effective method for reducing a wide range of contaminants of health concern that may be present in your local water. The carbon is compacted into a dense structure, causing every molecule of water to be forced through microscopic pores of carbon, effectively reducing pollutants. The solid carbon block water filter is a replaceable cartridge designed so that it may be easily changed. The solid carbon block water filter does not waste water, there is no electricity required, it does not remove essential trace minerals that are beneficial to good health, it does not add salt or silver to the water, and it provides fresh, delicious, healthy drinking water. You can trust that the Aquaversa will perform as advertised because the Aquaversa is tested and certified by NSF International against stringent performance standards.
This filter system previously was identified as Multipure model MP1200EL.
Faucet Finishes Available – Make Your Faucet Selection At Checkout
A Chrome finish Designer Faucet is available at no additional charge. For an additional charge, you may substitute one of the eight colored Designer Faucet finishes shown below. When you add this Multipure Drinking Water System to your shopping cart, you will be prompted to accept the standard Chrome faucet finish at no additional charge, or choose one of the following faucet finishes for a small additional charge. Click on any faucet image below for a better view.
---
Features
Key Features of the Multipure Aquaversa Below Sink with Capacity Monitor include:
Designed for below counter installation
Includes capacity monitor to measure actual water consumption and accurately time filter replacement for optimal filter change intervals
Economical to own – Operating cost is 8¢ per gallon
Long filter life – Capacity is about 1 year of typical use
Employs submicron (0.5 micron) solid carbon block technology with easily replaceable filter cartridge (model CB6)
Utilizes mechanical filtration, electrokinetic adsorption and chemical/physical adsorption processes for comprehensive contaminant reduction
Tested and certified under NSF/ANSI Standards 42 (Aesthetic Effects), 53 (Health Effects) and 401 (Emerging Contaminants) to reduce a wide range of contaminants of health concern (see product Performance Data Sheet for specific contaminant reduction information)
Comes with one filter cartridge
Includes necessary accessories, easy connect fittings, and installation hardware
Extensive owner's manual with detailed instruction for installation and troubleshooting
---
Reviews
---
Specifications
| | |
| --- | --- |
| Model | Aquaversa Below Sink with Capacity Monitor |
| MSRP | $535.00 |
| Replacement Filter Cartridge Model | CB6 |
| Estimated Annual Maintenance Cost | $90.00 |
| Recommended Service Cycle | Replace filter cartridge annually |
| Description | Capacity-metered below sink carbon block water filter |
| Installation Location | Mounts under counter |
| Filtration Technology | Activated solid carbon block |
| Particle Retention Size | Submicron (0.5 micron nominal) |
| Housing Composition | Stainless steel |
| Faucet Composition | Chrome plated lead-free |
| Rubber Items | Neoprene |
| Inlet | 1/4" Pipe |
| Outlet | 1/4" Pipe |
| Rated Filter Capacity | 1,200 Gallons |
| Compliance Certification | NSF/ANSI Standards 42, 53 and 401 |
| Weight (basic unit) | 5.0 lbs. |
| Height | 8.5 in. |
| Body Diameter | 5.75 in. |
| Approximate Flow Rate | 0.75 gpm @ 60 psi |
| Maximum Operating Pressure | 100 psi — 7.0 kg/cm2 |
| Minimum Operating Pressure | 30 psi — 2.1 kg/cm2 |
| Maximum Operating Temperature | 100° F / 38° C - cold water use only |
| Minimum Operating Temperature | 32° F / 0° C - cold water use only |
| Manufacturer Warranty | Lifetime on housing; 1 year on accessories |
Read Frequently Asked Questions
View Water2Drink's Product Comparison Chart
Download the Product Comparison Chart Today (PDF Format)
We gladly accept the following credit cards:

Multipure Aquaversa Drinking Water Filter – Below Sink with Capacity Monitor


Water2Drink.com is
an Independent Builder for
Multipure Products

Founded in 1970, Multipure is an industry leader in the manufacture and distribution of drinking water systems and compressed solid carbon block filters. Headquartered in Las Vegas, Nevada, Multipure employs over 300 people, and is committed to being an eco-friendly company that provides the people of the world with the best quality drinking water at an affordable price. Multipure is a member of the Water Quality Association, the Las Vegas Chamber of Commerce, and the Better Business Bureau.
Experience You Can Trust.

Water2Drink.com has the knowledge and depth of experience to guide our customers in making optimal water filtration system choices. Each member of our team takes the time to first listen to our customers before making any recommendations, making sure that we understand what unique drinking water problems our customers may be facing. We only recommend products and solutions that have a proven track record and best suit the needs of our customers. Year after year, Water2Drink.com has been recognized by Multipure as one of their leading Builders, serving customers as a trusted source for all things Multipure.
Why Multipure & Water2Drink?
1

Superior Performance

Multipure Drinking Water Systems reduce

a greater number of contaminants of health concern

when compared to competitive products. Multipure leads the industry in reducing contaminants, constantly innovating and improving filter performance.
2
NSF Tested & Certified
Multipure Drinking Water Systems are performance tested and certified by
NSF International
. This independent certification guarantees that the products will live up to your expectations and deliver the protection your family wants and needs.
4
Expert Customer Service
Water2Drink provides expert customer service to assist you in evaluating your personal drinking water concerns, and help you determine the Multipure Drinking Water System and accessories that are best suited to satisfy your individual needs.